A new way of

thinking

developing

launching

expanding

your fintech business
With our innovative Cards and Digital Accounts solutions, you can offer your own financial products quickly and securely.
Tell me more!
The solution you need, just an API away
International cards for your clients
Take your business to the next level by using our technology to issue and process physical and virtual cards.
Issue international cards powered by Visa or Mastercard.
Offer prepaid, debit, credit, cripto or corporate cards.
View your customers' online and in-store purchases in real time.
Meet the solution
End-to-end solution
Our solution covers the licensing, card issuance, printing, distribution, and payment processing in a single integration.
Easy to integrate
Link the cards to digital, banking or crypto accounts for a complete experience.
Digital accounts for your clients
Offer digital accounts to both individuals and businesses.
Digital accounts creation to easily handle balances, deposits, withdrawals and transfers via CVU or usernames.
Real-time transaction tracking and visualization from our Dashboard or APIs.
Meet the solution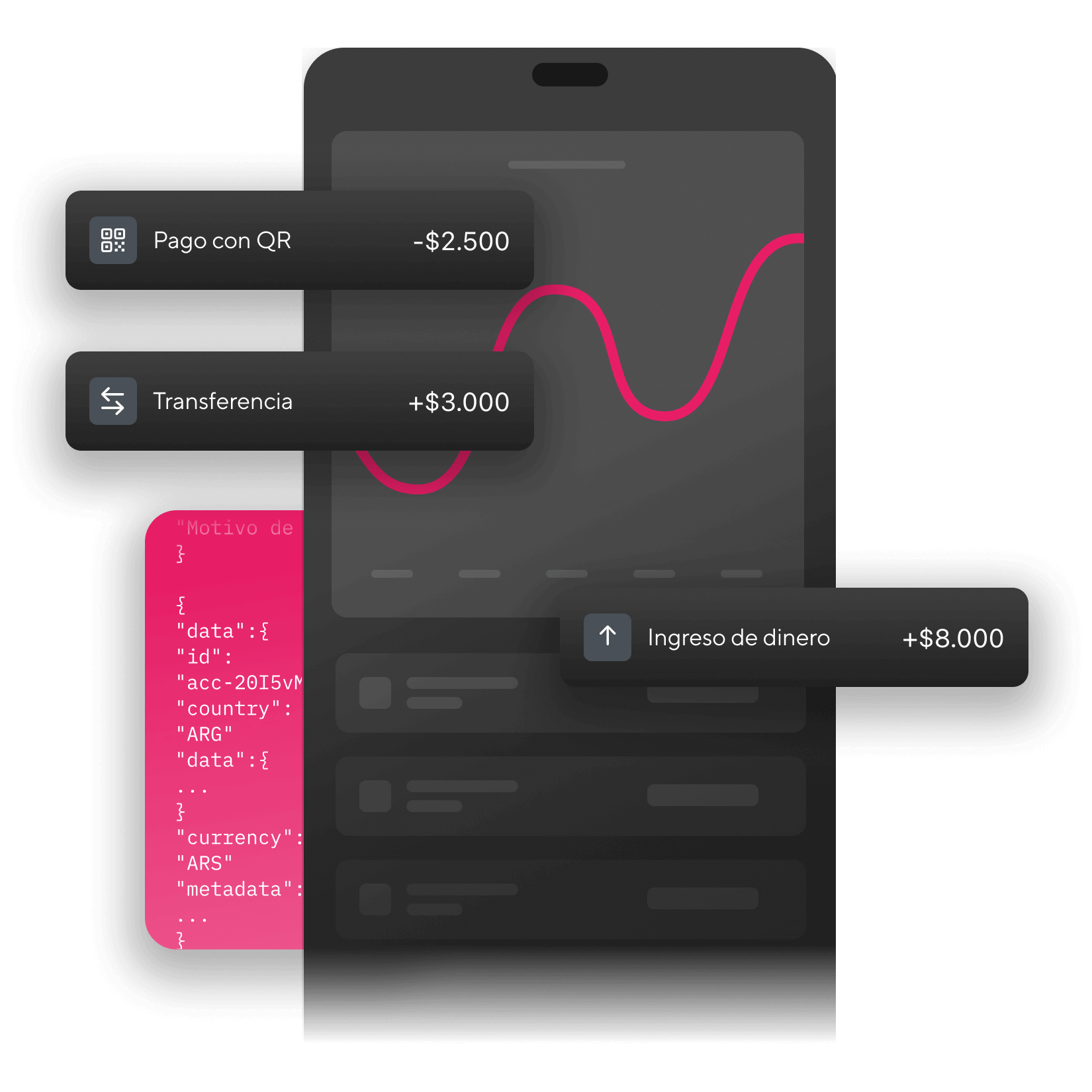 Complete solution
Our digital accounts solution includes features such as: balance management, money transfers, ATM access, detailed reports and much more.
Simple integration
User-friendly APIs and Docs that make it easy for you to integrate digital accounts into your business.
Companies that choose our solutions
More than 100 regional companies and international unicorns choose us to manage their fintech or crypto business.
"The prepaid cards that we issue for Rappi work with instant funding, which allows their couriers to pay for orders in stores with real-time authorization. The transactions also include data that help reduce fraud and increase the efficiency of the operation."
What sets us apart
Regional scope
A single integration to launch in six countries and reach 450 million people.
Fast integration
Accelerated product launch for your financial products, with focus on time to market.
Modular technology
Flexible and scalable solutions to develop your value proposition and scale up your business.
Secure infrastructure
Our technology is backed by the highest security standards and certifications to ensure safety.
User-friendly development
Clear documentation and APIs that are easy to integrate into your development setting.
Transparent pricing
Aligned with your business growth, without surprises, and oriented towards long-term sustainability.
DOCUMENTATION TO STREAMLINE YOUR INTEGRATION
Use our materials to ease your onboarding with our solutions!
Start offering financial products in a matter of weeks
Let's go!